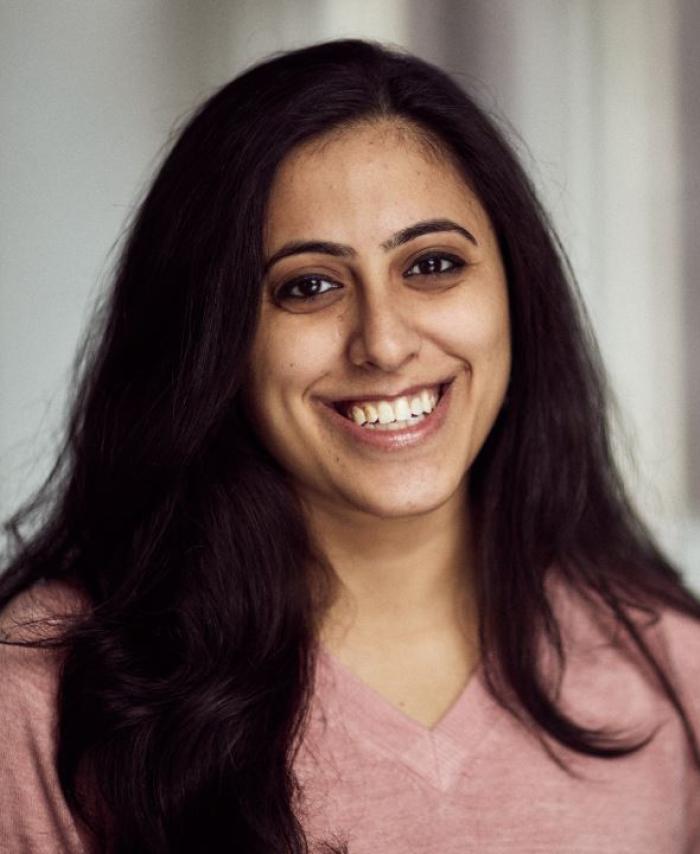 Research interests
Gender, Development, Son Preference and Discrimination, Daughterhood, South Asia, India
Taanya Kapoor
Research Student
Taanya is a researcher from India passionate about the subject of gender discrimination and women's rights, among other development and welfare issues, especially in the context of South Asia. She has completed her M.A. and M. Phil in Political Science from Jawaharlal Nehru University, New Delhi, India, where her thesis focused on debates surrounding women's agency and autonomy in patriarchal societies, and how democratic nation states navigate the competing questions of individual freedoms and group rights in a multicultural context.
She has volunteered with different NGOs promoting women's rights and other welfare issues. Before coming to Oxford, she worked as a Research Associate at the Centre for Policy Research, New Delhi where she was part of a two year long ethnographic study analysing the Delhi government's education policies and reform efforts directed towards teaching at the right level (TaRL). Currently, Taanya is also involved as a Research Assistant on the ESRC funded GendV project, based in the Department of Sociology at the University of Cambridge, which explores urban transformations, changing gender relations and newer forms of gender based violence in New Delhi and Johannesburg.
In 2019, Taanya was also a consultant with the United Nations Population Fund on a qualitative sociological study studying shifts in parental attitudes towards daughters in India since the 1990s. Building on some of this work, Taanya's current Dphil project focuses on studying the contradictions of modern daughterhood in India, persisting son preference and changing moralities of the middle and upper classes, where new meanings are being assigned to daughters' value and worth.
Teaching Assistant and Course Convenor, Gender and Development, Sarah Lawrence Exchange Program, Wadham College, Oxford (Michaelmas 2022, Hillary 2023, Trinity 2023)
Teaching Assistant, Qualitative Research Methods, Core MPhil course, Department of International Development, Oxford (Michaelmas 2022)
Tutor for Grading Formative Assessments for Postgraduate MSc. Course, History and Politics of South Asia, Oxford School of Global and Area Studies (Michaelmas 2022) 
Teaching Assistant, History and Politics of South Asia, Undergraduate Course, University College, Oxford (Trinity 2021)
Teaching Assistant, History and Politics of South Asia, Undergraduate Course, St. Edmund Hall College, Oxford (Trinity 2021)
Teaching Assistant, History and Politics of South Asia, Undergraduate Course, Queen's College, Oxford (Trinity 2021)
Guest lecture, "Cash Transfer Schemes and Gender Discrimination in Welfare Policies", M.A. Political Science students, Centre for Policy Research, JNU, New Delhi (2020)
Guest lecture, "Questions of Agency and Autonomy in Feminist Politics", M.A. Political Science students, Centre for Policy Research, JNU, New Delhi (2017)
Teaching Assistant, Law and Politics in India, Postgraduate Fellowship Program (YIF), Ashoka University, Delhi (2016)
Conference papers

Kapoor, Taanya (with Nandini Gooptu )(2023) 'Negotiating gendered violence and male dominance through women's enterprise in Gurgaon" ', Paper presented at the "Gender Based Violence: Urban Transformations and Changing Gender Relations" symposium hosted by the GendV Project and University of Johannesburg, South Africa.

Kapoor, Taanya (2023) '"Managing" Violence before it takes place: Everyday Fear, "Justified Anger" and Confined Freedoms in Gurgaon's Gated Complexes ', Panel on "Urban Gendered Violence in a South Asian City in a Comparative Perspective", ESSHC 2023, hosted by the University of Gothenburg, Sweden

Kapoor, Taanya (2023) '"Flawed Mothers and Resentful Daughters: Examining the changing portrayal of mother-daughter relationships through a reading of Qala ', Panel on "Rewriting Hindu Women Within Contemporary Popular Media", European Conference on South Asian Studies (ECSAS 2023), hosted by the University of Turin, Italy

Kapoor, Taanya (with Vincy Davis )(2021) 'Talking Like the State: Delhi Education Reforms and the Role of the Bureaucracy ', Paper presentation with Vincy Davis. CIES 2021, RISE Panel: "Beyond the front(line) and centre: Rethinking agents and agency in education reform

Kapoor, Taanya (with Ravinder Kaur )(2020) 'Reversing Gender Inequality at Birth: Can Girls' Agency be a Crucial Factor? ', Paper presented at International Conference on 'Reproduction, Demography and Cultural Anxieties in India and China in the 21st Century' Department of Humanities and Social Sciences, IIT Delhi, New Delhi