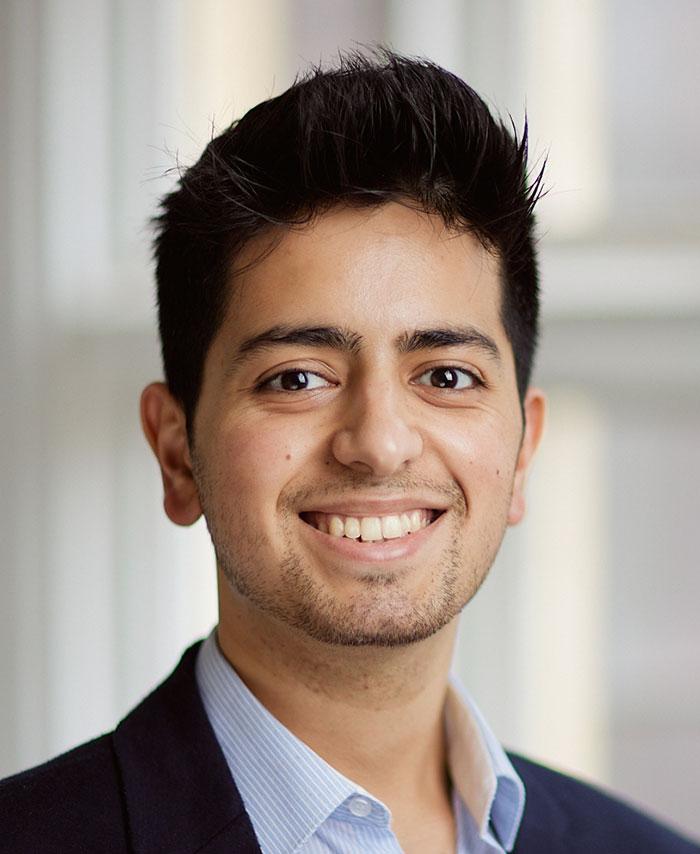 Research interests
Political parties & democratisation; history & politics of South Asia; developmental state & civil society; political economy of development
Amogh Sharma
ESRC Postdoctoral Fellow
Amogh's research interests focus on the nature of democratic politics in the Global South, with special emphasis on party politics, political communication, and the political economy of development in South Asia. In 2020, he completed his D.Phil. in International Development at ODID where his thesis examined the 'professionalisation of politics' in India as witnessed by the growing influence of specialized party staffers, political consultants, 'spin-doctors', and pollsters in the domain of election campaigns and intra-party politics.
As an ESRC Postdoctoral Fellow, he will build upon his existing research by examining the interface between technology and politics in contemporary India. During the course of the fellowship, Amogh will be exploring how the problem of disinformation and conspiratorial propaganda can be better understood by analysing the actors and institutions that produce them. He is also keen to collaborate with knowledge exchange partners to see how the findings from his research can be used to inform policy solutions on the regulation and monitoring of election campaigns and political parties.
In the past, he has worked as a Departmental Lecturer in Modern South Asian Studies at the Oxford School of Global and Area Studies where he taught graduate level courses on 'Economic Development in South Asia: 1947 to Present', 'Core Course in Modern South Asia Studies', Quantitative and Qualitative Research Methods, and supervised various MSc dissertations. At the undergraduate level, he has held a Lectureship in Politics at The Queen's College, Oxford, where he taught 'Introduction to Politics' and 'Comparative Government' to PPE students.  
Graduate Teaching
Teaching Assistant for Qualitative Research Methods (Archives & Historical Documents), MPhil in Development Studies (Academic Year 2018/19)
Teaching Assistant for Core Course in Development Studies, MPhil in Development Studies (Academic Year 2017/18)
Teaching Assistant for History and Politics of South Asia, MSc & MPhil in Modern South Asian Studies (Academic Year 2017/18)
Teaching Assistant for Quantitative Research Methods, MSc in Global Governance and Diplomacy (Academic Year 2016/17)
Seminar Instructor for Refresher Course in Mathematics, Statistics, and Stata, MSc in Global Governance and Diplomacy (Academic Year 2016/17)
Undergraduate Teaching & Thesis Supervision
Thesis Supervisor, Philosophy, Politics and Economics (PPE) Honours School, Lady Margaret Hall, University of Oxford (Academic Year, 2017/18)
Tutor for Politics in South Asia, Philosophy, Politics and Economics (PPE) Honours School - Balliol, Magdalen, St Anne's & Harris Manchester College, University of Oxford (Academic Years 2016/17 & 2017/18)
Course Instructor for Politics in South Asia, Lady Margaret Hall Visiting Students Programme, University of Oxford (Academic Year, 2017/18)
Course Instructor for Politics in South Asia, Yale University-Worcester College Visiting Students Programme, University of Oxford  (Academic Year, 2016/17)
Journal articles and special issues

Sharma, Amogh (with Garima Jaju and Ikuno Naka )(2017) 'Home, Displacement and Belonging: An Editorial Introduction ', St Antony's International Review 12 (2) : 3-8

Sharma, Amogh (with Garima Jaju and Ikuno Naka )(2017) ' Special Themes Section: Home, Displacement and Belonging ', St Antony's International Review

Sharma, Amogh (with Garima Jaju and Ikuno Naka )(2017) 'Feature Interview: Prof Aihwa Ong in Conversation with STAIR ', St Antony's International Review 12 (2) : 15-25

Sharma, Amogh (with Franziska Meink et al )(2017) 'Pathways from family disadvantage via abusive parenting and caregiver mental health to adolescent health risks in South Africa' ', Journal of Adolescent Health 60 (1) : 57-64
Chapters

Sharma, Amogh (2021) 'Ordinary Conspiracy Theories and Everyday Communalism: Right-Wing Propaganda on the Indian Cyberspace ', Passionate Politics: Democracy, Development and India's 2019 General Elections Manchester University Press

Sharma, Amogh (2021) 'Election Campaigns in an Era of Post-Truth Politics: Perspectives from Indian General Elections ', The Rise of the Radical Right in the Global South Routledge
Working papers

Sharma, Amogh (with Sachin De Stone et al )(2016) 'Factors associated with Good and Harsh Parenting of Pre-Adolescents and Adolescents in Southern Africa ', Office of Research – Innocenti Working Paper WP-2016-20 UNICEF
Reviews

Sharma, Amogh (2020) ''How to Win an Indian Election: What Political Parties Don't Want You to Know' by Shivam Shankar Singh ', Commonwealth & Comparative Politics 58(2) : 275-276

Sharma, Amogh (2017) 'Book Review: 'Autumn of the Matriarch: Indira Gandhi's Final Term in Office' by Diego Maiorano ', South Asia Research 37 (2) : 249-51