Artist for ODID research project locates plane used in secret renditions
An artist creating an animation for an ODID research project documenting human rights violations in 1970s South America has unexpectedly located an Argentinian naval plane used for the secret rendition of political prisoners between countries, and lawyers acting for victims have now filed the information before criminal courts in Buenos Aires.
ODID Departmental Lecturer Francesca Lessa has been researching Operation Condor, a transnational campaign of state terror against political activists in South America in the 1970s, for over ten years. Her work has brought together a wealth of new and previously scattered evidence relating to the covert operation and she has acted as an expert witness in a number of trials against perpetrators.
Last year, Dr Lessa and project partners in Argentina, Chile and Uruguay launched a new website to make their Operation Condor material available online. As part of the project, Dr Lessa commissioned a series of animations from Uruguayan artist Sebastián Santana Camargo and his colleagues from pozodeagua productions.
One in particular focussed on the disappearance of five Uruguayan and Argentinian activists in Paraguay in 1977. The case involved militant leaders Gustavo Inzaurralde and José Luis Nell Granada, who were attempting to arrange safe passage to Europe for activists from a base in a boarding house in Asunción. The two men, along with three other people, namely Nelson Santana Scotto, Alejandro Logoluso and Dora Landi, were kidnapped in March 1977 by Paraguayan security forces and subjected to brutal interrogation at the hands of Paraguayan, Argentinian, and Uruguayan officers. They were forcibly transferred to Buenos Aires two months afterwards and later disappeared.
From the initial stages of the plancondor.org project, Dr Lessa and project partners had agreed that the case of "Five in Asunción" worked well as an emblematic case for one of the audiovisual productions, because it spoke to the broader patterns that typified Operation Condor. These included monitoring of the intended targets, their abduction and interrogation under torture by international task forces, and their secret rendition.
The case also played an important role in the trial in Argentina of 27 former military officers, including dictator Jorge Videla, which led to 15 people being found guilty of abductions, torture, and criminal conspiracy in 2016.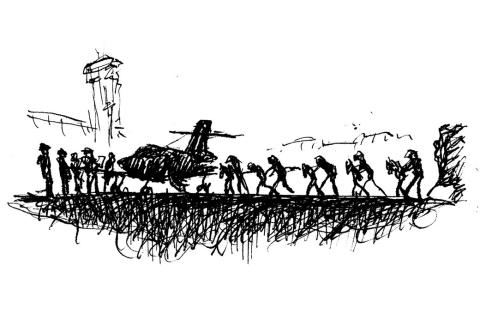 An illustration of the plane by artist Sebastián Santana Camargo created as part of the animation
Documents found in 1992 in the so-called "Archives of Terror" in Paraguay record that the five people were flown to the Argentinian capital on 16 May 1977 "in a twin-jet aircraft of the Argentine Navy with registration number 5-7-30-0653". This was one of few archival records that explicitly confirms the occurrence of clandestine renditions of political prisoners between countries in South America.
Keen to create an accurate illustration of the particular plane used in the kidnapping for the animation, artist Santana Camargo began to search online for pictures. Trawling through blogs by aviation enthusiasts, as well as the Facebook page of the Argentinian Navy, he found multiple images of the plane with the registration number 5-T-30 clearly visible (the 7 appears to have been a transcription error).
According to the blogs, this plane, a Hawker Siddeley HS-125 model 400B jet, was the only plane that the Navy possessed at the time and had been acquired in 1971 for the "exclusive" use of the Navy Commander in Chief.
One photo in particular included a Google maps image with a pin showing the precise location of the plane, in the Ángel Adami (Melilla) Airport in Montevideo, Uruguay. According to the blogs, it was abandoned at the airport in 2008, having been sold by the Argentinian Navy in 1987.
Santana reported the finding to lawyers acting for victims and survivors in Argentina, who have requested that the plane be preserved and possibly transferred to Argentina as evidence in ongoing criminal cases.
Argentinian lawyers have now filed the information before three criminal courts in Buenos Aires, including before Criminal Court No 7, which is specifically investigating the cases of victims of Operation Condor. 
"This is a fundamental step ahead in the search for truth, justice and reparations for Operation Condor atrocities," Dr Lessa said. "The plane embodies the materiality of the crimes committed and its location in Uruguay can spur existing investigations in Argentina that are still trying to determine the victims' final fate."